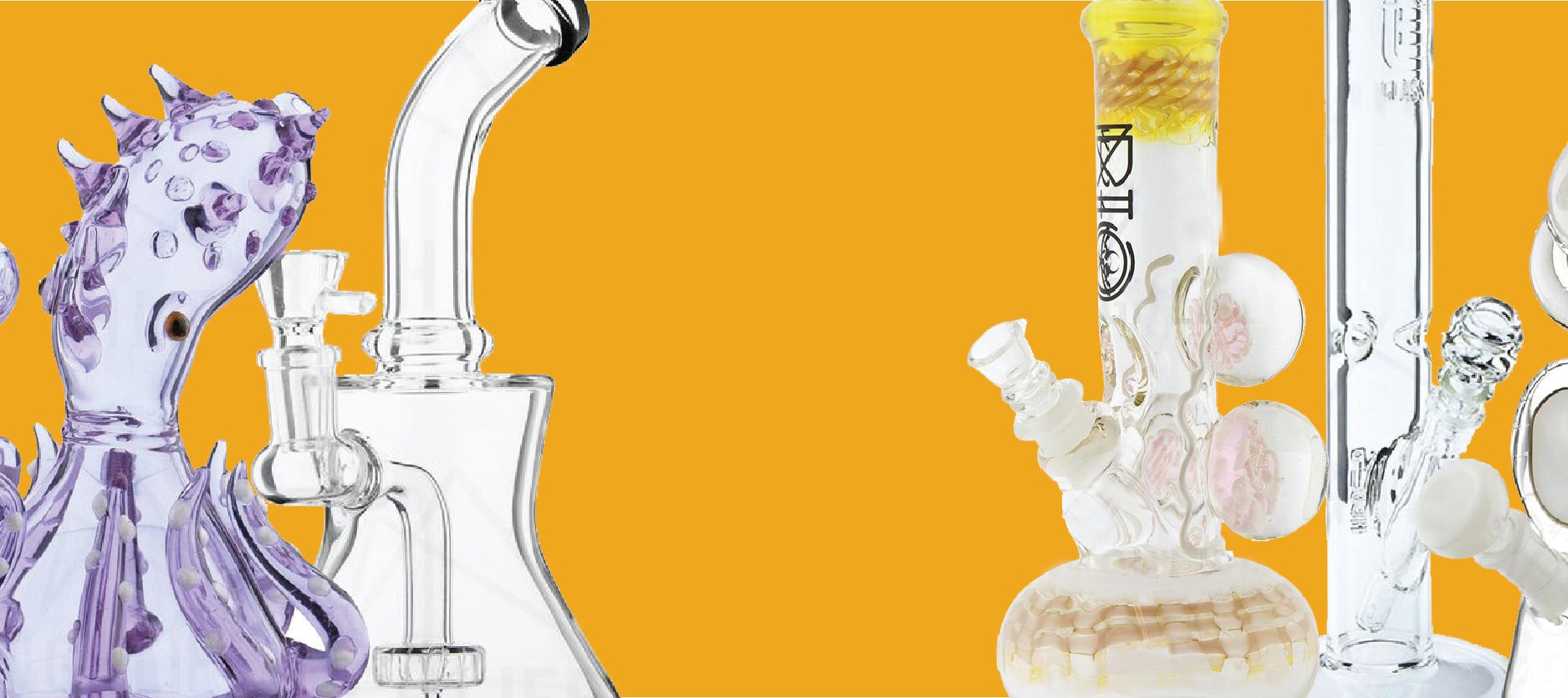 A bong, also known as a water pipe, uses water to filter out ash and fine particles from smoke, resulting in a cooler and smoother hit. Bongs have long been a popular option for smokers everywhere. The earliest water pipe goes as far back as nearly 3,000 years ago, and they were commonly used for smoking dry herbs and tobacco. Standing the test of time, bongs are reliable and effective in providing a highly enjoyable smoking experience.
Things to consider when buying a water pipe

Flower or concentrate?
If you fancy dry herb, then a bowl attachment Is ideal. A bowl comes standard with most bongs, and it conveniently holds your herb as you light it up. For dabbers, a dab nail is the preferred option for your concentrates.
However, if you only use wax or concentrates, then we recommend going for a dab rig (referred to as an oil rig, vapor rig, or concentrate pipe). Dab rigs are designed specifically to maximize the flavor and terpene profiles of concentrates.
Types of Water Pipes

Ranging from the straightforward, classic beaker to ornately constructed glass pieces, Highlife Goods boasts a wide array of bongs/waterpipes for your cannabis needs.
Beaker Base
The scientific style beaker bong is known for its sturdiness thanks to its wide conical base. The increased water capacity of the beaker base also allows for larger hits.
Straight Tube
The straight tube bong has a slim and streamlined profile, maintaining a cylindrical shape from base to mouthpiece. The straight tube bong is understated in its appearance and effective in its function.
Round Base
Also known as a bubble base, the round base rose to prominence around the 1970s. Round bases have a spherical shape with a flat bottom for stability. This is your go-to if you are looking for a functional piece with a retro vibe.
Heady Bongs
The bong is more than just a smoking apparatus; it is a functional art piece. Glassblowers across the United States have made creative innovations over the last several decades, transforming the process of bong making into an artisan craft.
Water Pipe Components
The bong is made up of several essential components, no matter the type of the bong. Whether the bong is standard piece or an ornate glass masterpiece with complex detailing, every bong has the following features.
Base
The base of a bong is the lower portion of the bong that fills with water. As previously mentioned, bongs are often classified by their base type, whether they are beaker, straight, or round bases.
Mouthpiece
The mouthpiece is the part of bong from where the user inhales the smoke.
Tube
Also referred to as a neck, the tube of a bong is the cylinder that connects the base and the mouthpiece. It conducts the smoke and air into the user's mouth.
Downstem
The downstem of a bong is the long connective tube that is inserted through the base and into the water. The classic downstem is a solid cylinder, while the diffused downstem features slits that, you know, diffuses and cools water and smoke, effectively functioning as a percolator.
Joint
The joint is the connection between the bong, the downstem, and the bowl. You may notice "joint sizes" and "joint genders" referred to on certain products such as bongs, dab rigs, and glass attachments, as they are used to tell whether the components are compatible to create an airtight connection. The most common joint sizes are 10mm, 14mm, and 19mm.
Bowl
The bowl of a bong is the piece atop the downstem that holds the herb.
Additional Components
These bong components and accessories are advanced filtration designs that improve the overall function of the bong and enhance your smoking experience.
Percolator
The bong's percolator is a diffuser that filters and cools smoke. There are a wide variety of percolators, and some of the most common percolator types include:
Tree
Named for its tree-like appearance, a tree perc has a main stem that branches out to any number of "arms". There are slits at the end of each tree arm for water and smoke to pass through, filtering and producing a cleaner, smoother hit. Generally speaking – the more arms, the more effective diffusion.
Showerhead
Shaped like a typical showerhead, a showerhead perc has a vertical stem with a flared round chamber. The slits at the bottom of the chamber ensures filtration and diffusion as water and smoke passes through.
Honeycomb
A honeycomb perc is a disk with as many as 100 or more holes, creating a resemblance of a honeycomb. Bubbles are forced through the honeycomb holes, which reduces the size of the bubbles and increases diffusion and filtration. In general: the more holes, the more effective diffusion.
Ash Catcher
An ash catcher is an adapter that filters smoke before it enters the main chamber of the bong. Some ash catchers have percolators of its own, providing additional filtration and cooling. The primary purpose of the ash catcher is straightforward – to prevent ash and debris from getting into the bong, effectively keeping your bong clean.
Ice Pinch
Also known as an ice catcher, an ice pinch is a series of (usually three) glass divots large enough to hold ice within the tube of the bong without blocking any smoke. The purpose of the ice pinch is to further cool the vapor before it reaches the mouthpiece.
Splash Guard
As its name suggests, a splash guard keeps the bubbling water from splashing up and out through the bong's mouthpiece. It is important to note that splash guards come in different shapes. Some ice pinches can act as a splash guard, as well as certain percolators (e.g. dome percolators). For some bongs, a bent neck can also function effectively as a splash guard.
Frequently Asked Questions:
How does a bong generally function?
When the contents of the bowl are heated, smoke travels through the downstem (and percolator) and filters through water. In this process, the smoke is cooled down as it travels through the tube and up to the mouthpiece where the user inhales.
What are benefits of using a bong?
A water pipe is convenient and easy to use. Bongs require less preparation than a joint. The next question "How to use a bong?" demonstrates just how simple it is – only 5 quick steps!
You will get a cooler and cleaner hit. Unlike the hit from a dry pipe, a bong will provide a cooler hit due to the water filtration process. Studies show that bongs are effective in filtering out carcinogens and other toxicants, making the smoke easier and safer to inhale.
Water Pipes are built to last. While bongs may typically require a higher upfront cost when compared to a blunt or joint, a well-constructed and well-maintained bong can last a lifetime.
Water Pipes are fun to use and easy to personalize. Bongs come in a wide array of colors, designs, shapes, and sizes, so you are certain to find one that best reflects your personality. Highlife Goods offers an expansive collection of bongs packed with unique features that will enhance your smoking experience.
How do you use a bong?
Fill with water. It is a water pipe after all. The downstem should be submerged no more than an inch inside the bong.
Prepare your dry herbs. Grind it with your preferred grinder or break it up with your hands, whatever works best for you. Using a grinder helps you to keep all the kief.

Pack the bowl (but not too tight!). You want to make sure that there is room for air to pass through.
Get ready to rip it! Hold your water pipe with your non-dominant hand, and the lighter in your dominant hand. Make an airtight seal by placing your lips inside the rim of the mouthpiece.
Light it up and smoke away! Light your lighter, tilt it over the bowl to burn your flower, and slowly inhale to draw smoke up the tube. You don't need to continuously hold the flame over the dry herb, once you get a cherry going you'll be set. Once you have drawn enough smoke, pull the bowl from the downstem and inhale the smoke. Hold the smoke for two to three seconds, then exhale. Pro tip: This is all one continuous motion, not a series of steps; letting the smoke sit inside the chamber for too long will cause it to go stale and create harsh hits so keep it fluid and smooth.

What is the best material for a bong?
Water Pipes can be made of a number of different materials. However, selecting the best material depends on the qualities you want from your piece. Whether you are looking to buy a stately borosilicate glass piece, old school ceramic, or an affordable silicone or acrylic bong, look no further than High Life Goods!
Glass
Glass water pipes are without a doubt the most popular type of bong on the market. They are usually made of high quality borosilicate glass, which is more resistant to heat and thermal shock than any other common type of glass. Users value the taste and purity of the smoke from a glass bong, as well the artistry of well-constructed glass pieces.
Silicone
Silicone water pipes have risen in popularity in recent years. Many of these types of water pipes are actually hybrids of silicone and glass components. Silicone bongs are made with food grade, BPA-free silicone, which is more durable than glass and easier to clean. The one major drawback of smoking with a silicone bong is the mild plastic taste you will get with most hits.
Ceramic
Ceramic pipes often match the pure smoking experience with the creativity of elegant glass bongs. Ceramic bongs are heavy and heat resistant, yet fragile – handle with care!
Acrylic
Acrylic water pipes are ideal for those who are on a budget, prone to breaking their pieces or worldly travelers. Acrylic bongs are more affordable than glass bongs, and they are far more difficult to break. Gas mask water pipe attachments are usually made of acrylic.
How do I clean and maintain my bong?
Proper cleaning and maintenance are key to ensure that your water pipe will last a lifetime. The simplest, most foolproof method for cleaning your bong is to use a rubbing alcohol and table salt mixture. High Life Goods offers a wide variety of cleaning solutions and cleaning accessories specially formulated for use on water pipes. To clean your piece:
Remove the bowl and downstem (if possible),
Pour your cleaning solution,
Plug the mouthpiece and downstem inlet to prevent the solution from spilling out.
Carefully shake the glass piece so the solution covers every nook and cranny until the resin and residue is gone. Make sure to be clear of your sink faucets or any other objects that could be hit during this process.

Rinse with warm water and air dry. You may experience resin build up on your fingers and hands, this residue is sticky and stubborn. Use the same alcohol and salt mixture or a safe cleaning solvent if you are not able to remove it with dish soap and water.
A few best practices for maintaining your water pipes include:
Change the water in between sessions. No one wants to accidentally suck up garbage water into their mouth when taking a hit.

Dump the ash from your bowl frequently to avoid pulling it through the water pipe.

Use an ash catcher to limit the amount of ash and debris that falls into the joint.

Clean your bong thoroughly after each use and as regularly as possible.