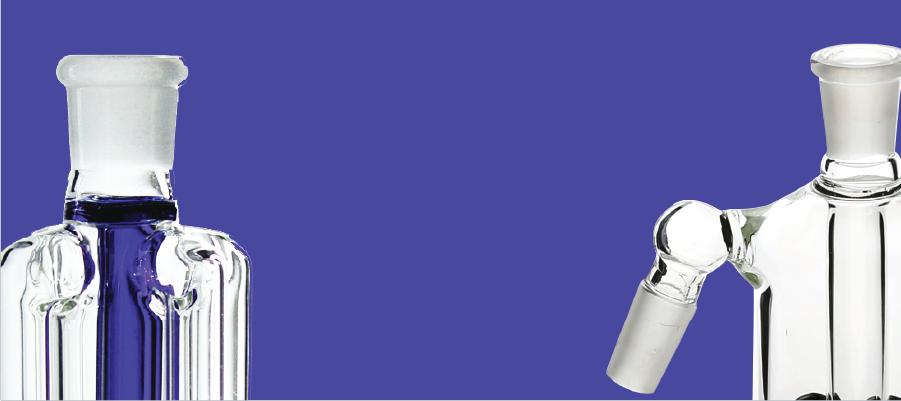 An ashcatcher is an additional waterpipe component that prevents ash and resin from working its way into the main chamber of the waterpipe. It also provides extra filtration and diffusion through its percolation mechanism.
Things to consider when buying an ashcatcher
There are a number of factors you should consider before looking for the ashcatcher that fits perfectly and works seamlessly with your waterpipe, including the joint measurements, the size of the ashcatcher, and the ashcatcher's percolator
Joint Size
The first thing you need to consider when buying an ashcatcher for your waterpipe is the joint size. Getting the joint size right is important to ensure your ashcatcher and waterpipe function properly. If you already know the joint size of your waterpipe, then you already know the joint size of the ashcatcher.
If not, then grab a ruler and measure the inner width of the waterpipe's female joint in millimeters. The three common joint sizes are 10mm, 14mm, and 19mm. If you don't have a ruler available, here's a rule of thumb: A dime fits through a 19mm joint. A pencil fits through a 14mm joint. If a dime or pencil can't fit through the joint, then it is likely a 10mm joint.
Joint Gender
Joints are either male (inner) or female (outer). Same sized joints are paired with their counterparts. For instance, if your waterpipe has a 14mm female joint, then your ashcatcher must have a 14mm male joint to be a perfect fit.
Joint Angle
Most ashcatchers are available in either 45 degree or 90 degree angles, which refer to the angle at which the ashcatcher will attach to your waterpipe. The ideal joint angle depends on how your waterpipe is constructed – a 45 degree ashcatcher fits a 45 degree waterpipe joint, and a 90 degree ashcatcher fits a 90 degree waterpipe. Keep in mind that the ashcatcher shouldn't touch any other part of the waterpipe and that the bowl is not at an angle where your dry herb can easily spill out.
Ashcatcher Size and Weight
It is also important that your waterpipe can still stand on its own once you attach the ashcatcher. If your waterpipe tips over whenever you use it, then we suggest downsizing your ashcatcher (preferred option) or getting a sturdier waterpipe.
Percolator
Ashcatchers come with a percolation systems to keep ash from getting in your waterpipe and filter your smoke for a cool hit. There are a variety of percolators that can be found in an ashcatcher – tree, showerhead, honeycomb, and flat ball percs are some of the percolator styles that can be found in an ashcatcher from Highlife Goods. If your waterpipe already has a very robust filtration system, like a recycler waterpipe, then we recommend going for a basic ashcatcher that will not add any drag to your piece. If you have a more straightforward waterpipe and you're looking for a more diffusion, then we suggest an ashcatcher with a more effective percolator like a honeycomb perc with a large number of small diffusing holes.
Frequently Asked Questions
How does an ashcatcher work?
Think of the ashcatcher and waterpipe's main chamber as the pre-wash and main wash cycle for a washing machine, respectively. The ashcatcher is the first filtration cycle that rids the smoke of resin and toxins before it goes into the main filtration cycle in the waterpipe's chamber to produce a cleaner and cooler smoke.
Are ashcatchers worth it?
If you are serious about the upkeep of your waterpipe or maximizing the coolness of your hits, then supplementing you waterpipe with an ashcatcher is certainly worth it. An ashcatcher is far easier to clean than a waterpipe, and it provides an additional layer of water filtration.
Do you add water to an ashcatcher?
Yes, you should add water to your ashcatcher. An ashcatcher functions as a smaller water chamber with its own percolation system, so water is necessary for the filtration process to go along smoothly. Just don't add too much water, otherwise dirty ashcatcher water can get into the waterpipe's chamber.
How do I clean my ashcatcher?
You can clean your ashcatcher the same way you normally would clean your waterpipe. Highlife Goods offer cleaning solutions and accessories that can help take the hassle out of maintaining your waterpipe setup. Follow these simple steps:
Remove anything attached to the ashcatcher.
Fill the ashcatcher with your preferred cleaning solution.
Plug the openings of the waterpipe
Shake the ashcatcher around so the cleaning solution can reach every part.
Drain out the cleaning solution and let it dry for a few hours.
Since an ashcatcher is smaller than most waterpipes, there are fewer parts to clean. We recommend that you still clean your waterpipe from time to time when you use an ashcatcher.